Multigrain toast with pears and walnut, fat free greek yogurt and honey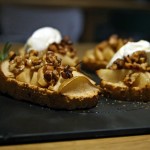 Tempo di preparazione :
15minuti.
Tempo di cottura :
15minuti
Porzioni :
4
Allergeni :
Glutine
,
Nuts
Nutrition facts

(per portion)

:
Calories: 301 kCal;
Carbohydrate Content: 65 g;
Fat Content: 11 g;
Protein Content: 11 g;
Procedimento
Peel pears (you can also use unpeeled) and cut them in slices. Put them in a bowl and mix with maple syrup, cinnamon, salt and chopped rosemary leaves.
Cook the mix for 2 minutes in a microwave oven. Place the bread slices in a oven tray.
Lay the pears on each slice of bread (in a circular shape, or other shapes); Mix walnuts with the "pear syrup" (the liquid obtained by pears cooking) and add them on the top of the toast. Gratin them in the oven (also a table top oven will do) for 10 minutes, 180°C.
Place the bread in a plate, add a generous spoon of yogurt on the top and drizzle with honey.
Chef tips You can cook pears in advance and have them ready in the morning. For a rustic result keep bread slices as they are, for a finest result cut each slice using a cutting ring.
Print